UPDATE! 2/02/14
Honored Guests,
With the signing of our contract the final ticket price for our grand soiree at the Napoleon House has been determined. In order to keep all guests notified of their balance and any other important updates, please do the following:
Many of you, when sending in your initial deposit, did not provide your email addresses. We need these so that our communications with you can be done more efficiently. If you purchased a block of tickets for a group please provide the names and email addresses for those in your group.
Remember there are no refunds. If you have made your deposit and can now no longer attend please contact me directly using the email listed above. I kindly ask you do not use Face Book. I can then put you in touch with someone currently on the waiting list.
We look forward to the pleasure of your company next January.
Sincerely,
Cynda Carpenter-Abolt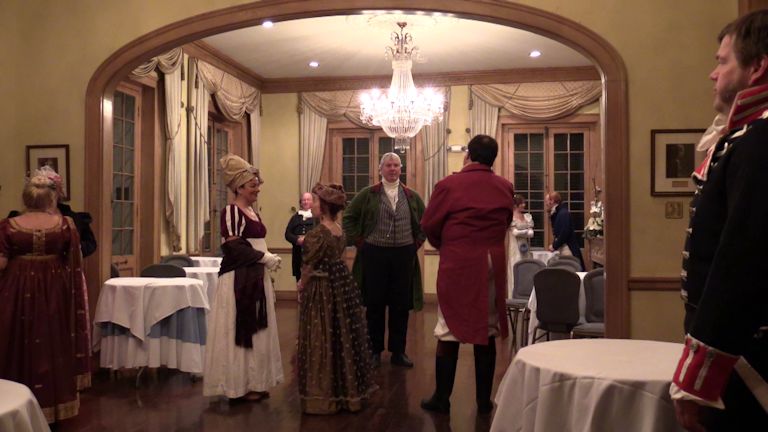 Napoleon House Soiree
We are proud to announce that as of this morning our 8th of January Soiree at the Napoleon House for 2015 is completely SOLD OUT! In less than 4 weeks time we have accepted enough reservations to allow us to take over the entire establishment. Plus we still have a waiting list that grows hourly of people wanting to attend this once in a lifetime event. For those who have made their reservations your deposit of $20.00 (US funds) made out in the form of a check must be in our company treasurers hands NO LATER than Dec. the 15th 2013. Your check should be made payable to:
Co A 7th USILHA and sent to:
John Lawrence
4309 Cape Cod Drive
We officially sign the contract and make our deposit on Jan. 8th 2014. Final ticket price will be determined then and the information forwarded to you. If you have not contacted me directly via email or by signing up at Mississinewa your name may not be on the list. So to prevent any

embarrassment

please contact me at secesh2@yahoo.com
(I rarely check FB). Likewise if you made a reservation, but can no longer attend please let me know as there are others on the waiting list.
On behalf of the Planning Committee WELCOME, we look forward to being with all of you in 2015.
The Glorious Eighth of January
200th Anniversary of the Battle of New Orleans
During the antebellum period, there were only three holidays celebrated in America. They were Independence Day, Washington's Birthday and the Glorious Eighth of January (for the Battle of New Orleans). Come join us for a special evening to celebrate this important holiday.
What better city for a party rather than New Orleans?
What finer venue in New Orleans than the "Emperor's Apartments" of the Napoleon House in the heart of the French Quarter?
We hope you will agree and choose to celebrate with us in the bicentennial year.
The Seventh USILHA will be hosting a grand soiree on the evening of Thursday the Eighth of January 2015. The ticket will entitle you to an assortment of heavy hors d'oeuvres and open bar. The event will be held on the second floor of the Napoleon House, one of the oldest buildings in New Orleans. Period dress of circa 1815 is required for all participants.
The Napoleon House's upper floor is limited to 135 people. We expect to reach this number in a short amount of time. There is an opportunity to expand the affair and take over the entire building and courtyard. Once 135 reservations have been made, a waiting list will be maintained. When we reach the number needed to close the entire place for a private event we will notify everyone.
There is a reservation fee of $20 per person to hold your spot. The exact ticket priced will be determined by the expected numbers and menu. Your ticket will be between $75 and $110 per person. The ticket price will be set by January 15, 2014.
The reservation fee is due before December 15, 2013. Checks should be made out to "The Seventh USILHA" and sent to
John Lawrence
4309 Cape Cod Dr
The Colony TX 75056
There will be no refunds of your reservation fee. If your plans change, and you cannot attend, you can sell your ticket(s) to the next person on the waiting list. Final payments will be due by December 8, 2014.
The bicentennial event is truly a once in a lifetime experience. The Seventh USILHA is excited to be able to offer this unique occasion in such an historic setting.
For further details, please contact Cynda Carpenter-Abolt at secesh2@yahoo.com.
Please join us.
ATTENTION ALL INTERESTED NEW ORLEANS 2015 PARTICIPANTS!
Our 7th INF Eighth of January Celebration at the Napoleon House is almost completely sold out!
While we have met the quota to reserve the "Emperors Apartments" we are 55 tickets short of being able to take over the entire establishment. This means the upstairs, courtyard and first floor bar.
Total occupancy of the building is limited to 235. Our event is open to all participants. Period dress is required.
If you have yet to make your reservation, time is fast running out. We will be signing the contract and placing the deposit on January 8, 2014
If you are interested in getting your name on the list contact Cynda Abolt at secesh2@yahoo.com ASAP.
This will only happen once. Don't miss it.